Dental Implants
In order, for us to properly evaluate your case, you will initially require a consultation and diagnostic appointment in order to best determine the treatment path necessary for your case. This includes determining whether or not your case will require extractions, gathering the appropriate information via X-rays, Panoramic & CT scans and impressions and any other photos required.
Directly after this consultation, you will be scheduled for implant surgery in which the new replacement teeth are fitted and adjusted all in one appointment, including any necessary extractions.
Dental implants are a great way to improve your smile. Small titanium posts that are surgically placed into the jawbone where the teeth are missing, dental implants are a permanent restoration that restore function similar to your natural teeth.
Once the bone has bonded with the implant post, dental restorations such as crowns and bridge are placed on the abutment.
Implant Supported Bridges

An implant supported bridge is a restorative solution for spaces where three or more adjacent teeth are missing. This restoration typically requires two implants to support the porcelain bridge. The bridge provides a functional and aesthetic replacement for a patient's natural teeth.
All on 4 Permanent Teeth
All on 4 was developed to best restore the full arches of the upper and lower jaws. This technique provides our patients with a non-removable dental arch that is secured by as little as four dental implant. All on Four is the perfect option for patients who have or need dentures or need complete restorations on the upper or lower teeth.
Benefits of All on 4
This procedure uses only four implants to secure all upper or lower teeth
High quality full teeth restoration can be performed even when bone loss has occurred with bone grafting
Gives you beautiful smile with Minimal Recovery Time
Reduces overall cost when compared to single implants
The beauty of this new procedure is the sheer convenience. The teeth are permanent and fixed so there is no need for patients to be without teeth or to endure temporary dentures for an extended time period. The patient is enabled to come for a appointment and leave with a brand new radiant smile!
Implant Supported Dentures

For patients who are missing many or all of their teeth, implant supported dentures may be an alternative to traditional dentures. This solution requires the placement of two or more implants. In order to replace a full arch denture, a minimum of four implants is generally recommended. Eligibility for this solution is dependent upon a number of factors, with jaw bone density being one of the most significant determining factors.
Traditional dentures rely on an acrylic base that sits directly on the gums, held in place by a paste or adhesive. Using implants as supports for dentures allows for a smaller and more comfortable base and less shifting of the prosthesis during use.
Implants can support both full and partial dentures as well as both fixed and removable dentures. If a removable denture is selected, the denture will "snap" on to the implant rather than requiring the use of denture paste or adhesives.
Related Dental Implant Articles
Dental Implants – Your Best Option For Replacing Teeth
Dental implants have many advantages over older methods of tooth replacement like bridges and dentures — from the way they function and feel to the way they look and last. Vigorous research has documented and confirmed that in the right situations, dental implant success rates are around 95%. It is no exaggeration to say that they have revolutionized dentistry. They may even change your life... Read Article
The Hidden Consequences of Losing Teeth
For those missing even one tooth, an unsightly gap is actually the least significant problem. What's of far greater concern is the bone loss that inevitably follows tooth loss. Dental implants fused to the jawbone can preserve bone, improve function and enhance psychological well-being. Learn how implants serve both as anchors to support replacement teeth, and preserve bone as one of the better preventive maintenance procedures in dentistry... Read Article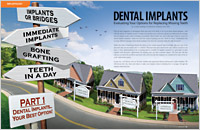 Dental Implants — Evaluating Your Options for Replacing Missing Teeth
As we guide you through the marketing hype you'll see that well planned implants most often require a team approach in assessing whether they're right for you. Not only are they a better treatment choice, they will last longer, possibly a lifetime, making them the right choice and the most cost effective option long term... Read Article
Implant Overdentures for the Lower Jaw
Implant overdentures represent a major change for the dental profession and the public. The lower jaw two-implant overdenture may be considered a more appropriate starting point over regular dentures... Read Article